1."Face-to-face with Masters", "Academician Campus Tour" famous teacher forum
The famous teacher forum aims to serve the academic growth and holistic development of graduate students, and focuses on cultivating graduate students' scientific spirit, humanistic quality, academic ethics, innovative spirit and team consciousness, promotes the construction of academic style, and guides graduate students to establish a correct outlook on the world, life and values.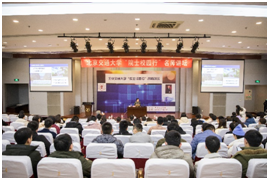 2.Graduate Innovative Practice Competition
Postgraduate innovative practice competitions are all kinds of extracurricular postgraduate activities independently or jointly organized by relevant national authorities or professional steering committees, enterprises or industry societies and other international academic groups.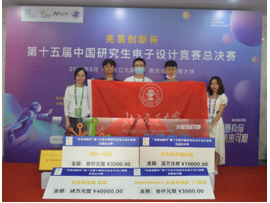 3."Huiguang Cup" Graduate Academic Cultural Festival
The "Huiguang Cup" Graduate Academic Cultural Festival started in 1991. It is a traditional academic activity for graduate students of BJTU. The main activities include: excellent paper selection, Bowen-forum, interdisciplinary forum, university and enterprise visits and practices, etc.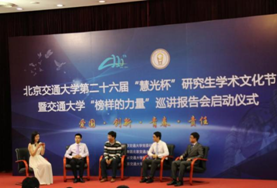 4.Postgraduate Social Practice
Postgraduate social practice activities are an important way for postgraduates to go to society, serve the society, integrate theory with practice, and cultivate innovative consciousness. The university and colleges develop various social resources and create precise social practice bases with favorable conditions of the government, national key projects, state-owned enterprises and communities etc.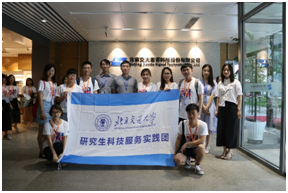 5.Construction of Postgraduates' Scientific Ethics and Study Style
The construction of Postgraduates' scientific ethics and study style is based on the establishment of morality. Through activities such as "construction month of Postgraduates' scientific ethics and study style", academic integrity reports, exhibitions of academic misconduct warning cases, model reports etc., the university cultivates the scientific spirit and innovative consciousness of graduate students, request them to comply with academic norms, adherence to academic integrity, improve academic personality, defend academic dignity, abandon academic misconduct and guides them to strengthen the mission of thinking about the overall situation and serving the country with science and technology.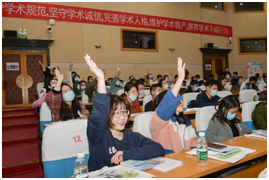 6.Cultivation Project for Future Leaders of Graduate Students
"The Cultivation Project for Future Leaders" of Postgraduates aims to cultivate a group of future academic teachers, state-ruling scholars, and entrepreneurs with firm ideals and beliefs, innovative spirit and practical ability.