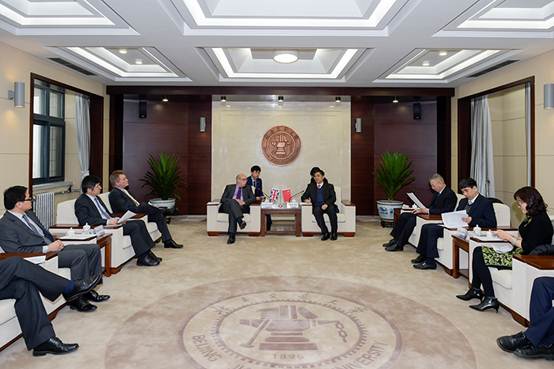 On January 5th, 2017, President NING Bin met with a nine-member delegation from University of Birmingham (UoB), UK, led by Sir David Eastwood, Vice Chancellor. Both parties inaugurated the International Joint Research on Rail Traffic Control and Safety, and renewed the Memorandum of Understanding for further collaboration.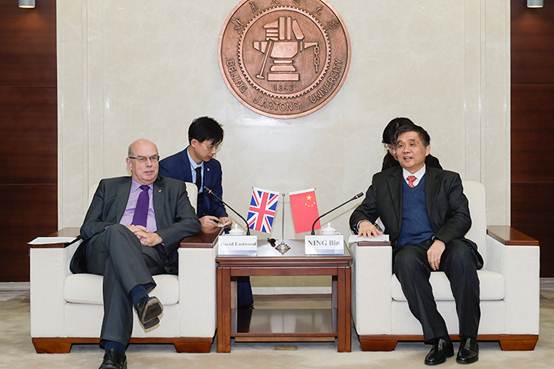 On behalf of BJTU, NING Bin extended his sincere welcome to the delegation's visit. He introduced the history and development, characteristic disciplines and 120th Anniversary of five Jiaotong Universities. He spoke highly of the International Joint Research on Rail Traffic Control and Safety, which was jointly established by two universities based on the successful cooperation foundation and supported by the Ministry of Science and Technology, China, a model of Education-Industry-Research to attract broad participation of some leading industrial companies like CRRC Research Institute. The signing of MoU and the inauguration of the Joint Research Center signified a brand new milestone. He expected both parties to strengthen cooperation and complement each other to a win-win result, to provide personnel and technological support for the development of the rail traffic industry, making contributions to rail traffic industry of China and UK and to the whole world.
David Eastwood spoke highly of the achievement of both parties'cooperation in the field of rail transit, and looked forward to further collaboration in innovation and more research outcome. He said, the University attached great importance to the cooperation of Beijing Jiaotong, and he expected two universities to expand the cooperation field and deepen the content relying on the joint research center, stepping into the Golden Age of both parties.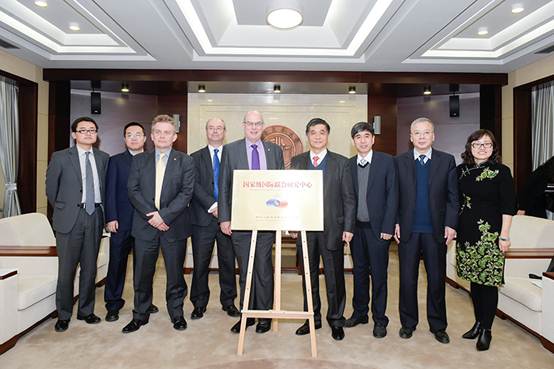 After the meeting, NING Bin and David Eastwood inaugurated the International Joint Research on Rail Traffic Control and Safety and signed the renewal of MoU. Before the meeting, the delegation visited the State Key Lab of Rail Traffic Control and Safety.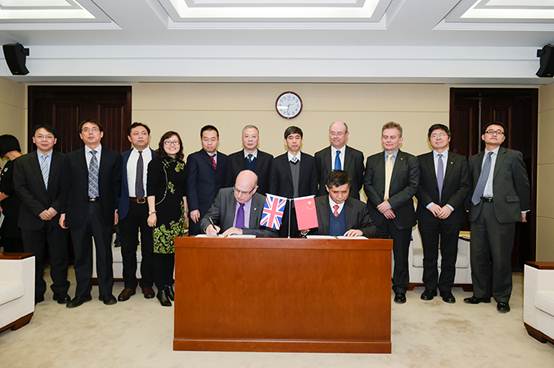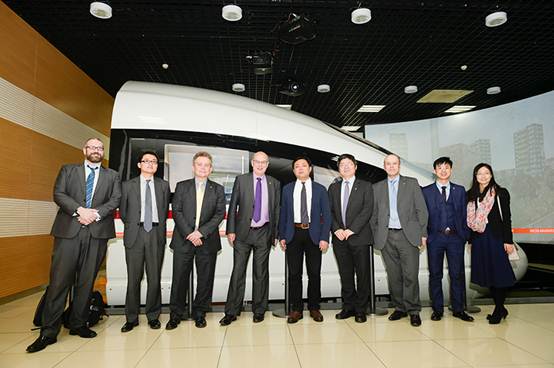 Mr. SUN Bangcheng from CRRC Research Institute, Mr. ZHANG Qiang from TCT Research Institute and other related guests attended the meeting. Vice President SUN Shouguang, and principals from Office of Research, State Key Lab and Office of International Affairs were also present at the meeting.
The UoB delegation also included Deputy Pro Vice-Chancellor Jon Frampton, Anson Jack, Director of International Railway Benchmarking and Zhibing Zhang, Vice Dean of China Institute, etc.