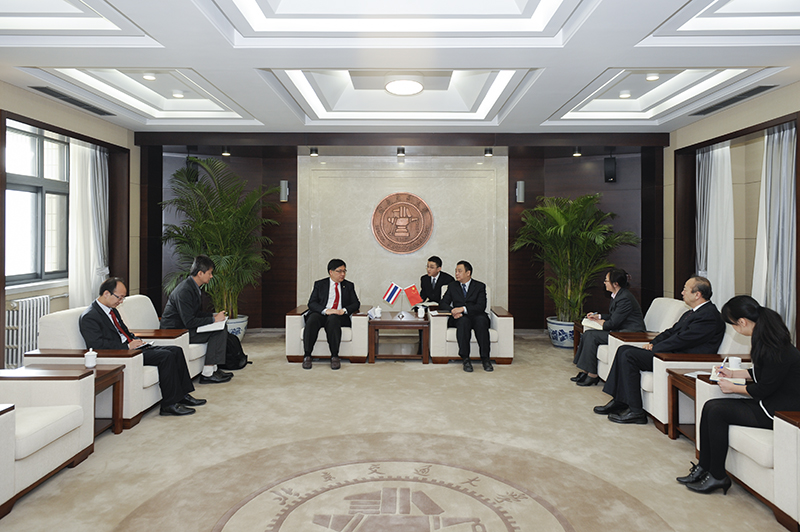 On the morning of April 15, 2015, Vice President LIU Jun met with Dr. Pornchai Mongkhonvanit, President of Siam University, Thailand. Dr. ZHANG Li (Dean of the International Sino College), LI Tao (Vice Dean of the International Sino College) and staff from the China Office of Siam University were also present at the meeting.




LIU Jun extended welcome to the guests on behalf of President NING Bin and introduced the history, strength discipline, international cooperation with Thai universities and participation into the construction of Chinese and Thai railways of BJTU. He hoped that both sides would conduct cooperation on the following three aspects: short and long-term student exchange, joint education program at the Weihai Campus, advanced studies at BJTU of teachers and research faculties from Siam University.

Dr. Pornchai Mongkhonvanit expressed gratitude to BJTU for the hospitality and introduced the development, disciplinary setting and talent cultivation of Siam University. He pointed out that the two universities share many similarities in such professional fields as Information Technology, Industrial Engineering and Mechanical Automation. He hoped that this visit would provide solid foundation for further exchange and cooperation. Meanwhile, he suggested that both sides focus on teachers short-term training first and then further promote joint education programs and long-term cooperation on scientific research.

Principals from the Center for International Education and Office of International Affairs were also present at the meeting.