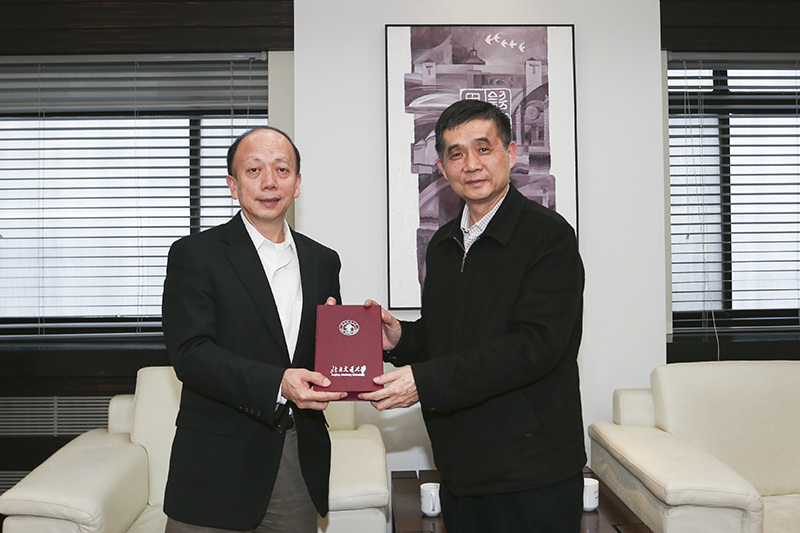 On April 3, 2015, President NING Bin met with the delegation led by Bailian LI, Vice Provost of North Carolina State University, U.S. Both sides have conducted exchange on future planning and the construction of the Weihai Campus.

NING Bin extended warm welcome for Bailian LI's another visit. He introduced the internationalization efforts and development of BJTU and especially, highlighted the construction and future planning of the Weihai Campus. He hoped that both parties would further strengthen ties and conduct substantive cooperation on talent cultivation and scientific research of strength discipline. Meanwhile, he hoped that Bailian LI, as the member of BJTU International Advisory Committee and with rich experience in higher education, would offer suggestions for the future internationalization of BJTU.

Bailian LI expressed gratitude to the hospitality and spoke highly of the internationalization efforts of BJTU and planning and development of the Weihai Campus. He hoped that both sides would deepen mutual understandings and establish double degree program based on the foundation of the existing programs of short-term student exchange. He also expected to promote bilateral all-round cooperation on talent cultivation and scientific research.

On April 2, accompanied by Assistant President XU Yugong, Bailian LI visited the Weihai Campus. The guests also visited the School of Architecture and Design, State Key Laboratory of Rail Traffic Control and Safety as well as the National Engineering Research Center of Rail Transportation Operation and Control System.