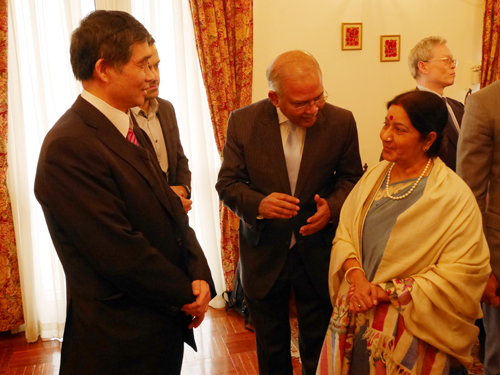 On February 2, 2015, invited by Mr. Ashok K. Kantha, Indian Ambassador to China, President NING Bin attended the luncheon held by Ms. Sushma Swaraj, Minister of External Affairs of India at Ambassador's Residence. Over 20 Chinese representatives from cultural, educational and business communities were present at the luncheon. This visit aims to further promoting economic, trade and educational cooperation.

Ms. Sushma Swaraj said the bilateral relations are much closer in recent years. All these achievements have been made through the joint efforts of all the representatives. She expressed gratitude to the guests for their great supports in India's industrial and infrastructure construction. She pointed out that Beijing Jiaotong University, as China's leading academic and research institution in railway, would play more important role in the bilateral railway cooperation including the training for Indian railway officers.

Then, President NING Bin held a cordial talk with Ms. Sushma Swaraj and Mr. Ashok K. Kantha. He introduced the cooperation between BJTU and Indian counterpart. Since the signing of the railway MoU between Chinese President XI Jinping and Indian Prime Minister Narendra Modi in September 2014, BJTU has received the visits of Indian Railway Board and Indian Ambassador to China and held two sessions of the training of 40 Indian railway officers on heavy-haul technology. Moreover, BJTU has actively participated in the construction of future Indian railway university. Beijing Jiaotong University is very grateful to Mr. Ashok K. Kantha for his support in the railway training programs.

Mr. Ashok K. Kantha spoke highly of the remarkable achievements BJTU has made in railway and the training of Indian railway officers on heavy-haul technology which has laid solid foundation for further enhancing Sino-Indian railway cooperation.