On the afternoon of April 28th, 2021, the online undergraduate dual degree joint educational cooperation agreement signing ceremony between Beijing Jiaotong University and Universiti Malaysia Pahang was held. Both sides will carry out undergraduate 2.5+2 dual degree joint educational program on Civil Engineering, Vehicle Engineering and Electrical Engineering and Automation. BJTU President WANG Jiaqiong, Prof. Dato' Dr. Husaini Omar, Director-general of the Ministry of Higher Education of Malaysia, Prof. Ir. Dr. Wan Azhar Bin Wan Yusoff,Vice Chancellor of Universiti Malaysia Pahang, Tan Sri Mohd Khairul Adib Bin Abd Rahman, Director General of Public Service of Malaysia, Vice President GUAN Zhongliang were present at the ceremony.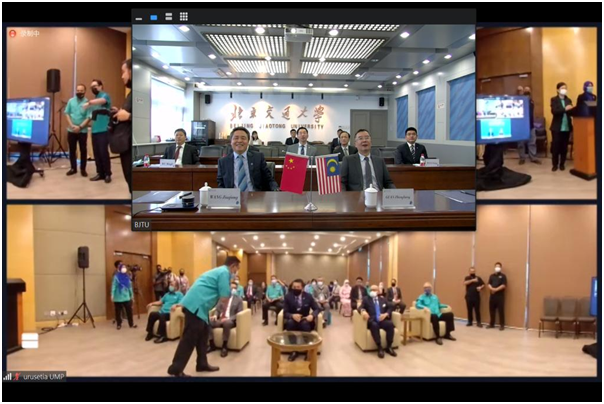 WANG Jiaqiong said as advancing China's "Belt and Road" Initiative, the East Coast Railway project constructed by both countries has been in full swing. The joint double-degree educational program on railway carried out by both universities will be of significant importance for providing railway talents for the railway project. He hoped that in the future both universities could take this MoA signing ceremony as opportunity, to jointly conduct more practical cooperation on student joint cultivation, faculty training, academic exchanges and scientific research, which will be beneficial to both people.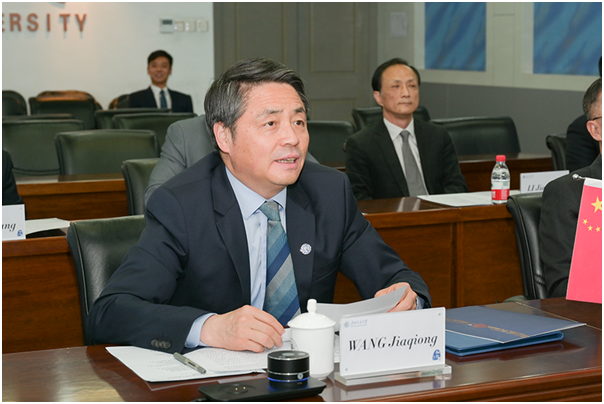 Prof. Ir. Dr. Wan Azhar Bin Wan Yusoff said this ceremony was the milestone of the international development of UMP/ As the advancement of the East Coast Railway project that co-constructed by both China and Malaysia, the demand for railway talents was increasing in Malaysia. Nowadays, UMP is implementing the Five-Year Strategic Planning. The collaborations with China's leading university in railway will enlarge the global influence of UMP.
Tan Sri Mohd Khairul Adib Bin Abd Rahman said the COVID-19 had severe impacts on the social and economic development of Malaysia, which also brought huge challenges for the world. Hence, the Department of Traffic and Transportation, especially the railway department, has played great role in recovering the economy of Malaysia. He hoped that both sides would achieve success in the dual degree program in order to accelerate the employment demands of the railway sector.
After the speeches, WANG Jiaqiong and GUAN Zhongliang signed the MOA between BJTU and UMP on behalf of the university.
CCTV, Xinhua News, China News and Tencent News all covered the agreement signing ceremony.
School of Mechanical, Electronic and Control Engineering, School of Civil Engineering, School of Electrical Engineering, Office of International Affairs and College of International Education were also present at the signing ceremony.