March 5th, the online launching ceremony of the new faculty residence building at the Confucius Institute in UNICAMP was successfully held. Distinguished delegates such as TIAN Yuzhen, Deputy Consul General of China in Sao Paolo; Marcelo Knobel, Rector of the University of Campinas (UNICAMP) and Juliana Servidoni de Magalhaes, Director of the International Relations Office at Campinas City Hall attended the event and delivered their address.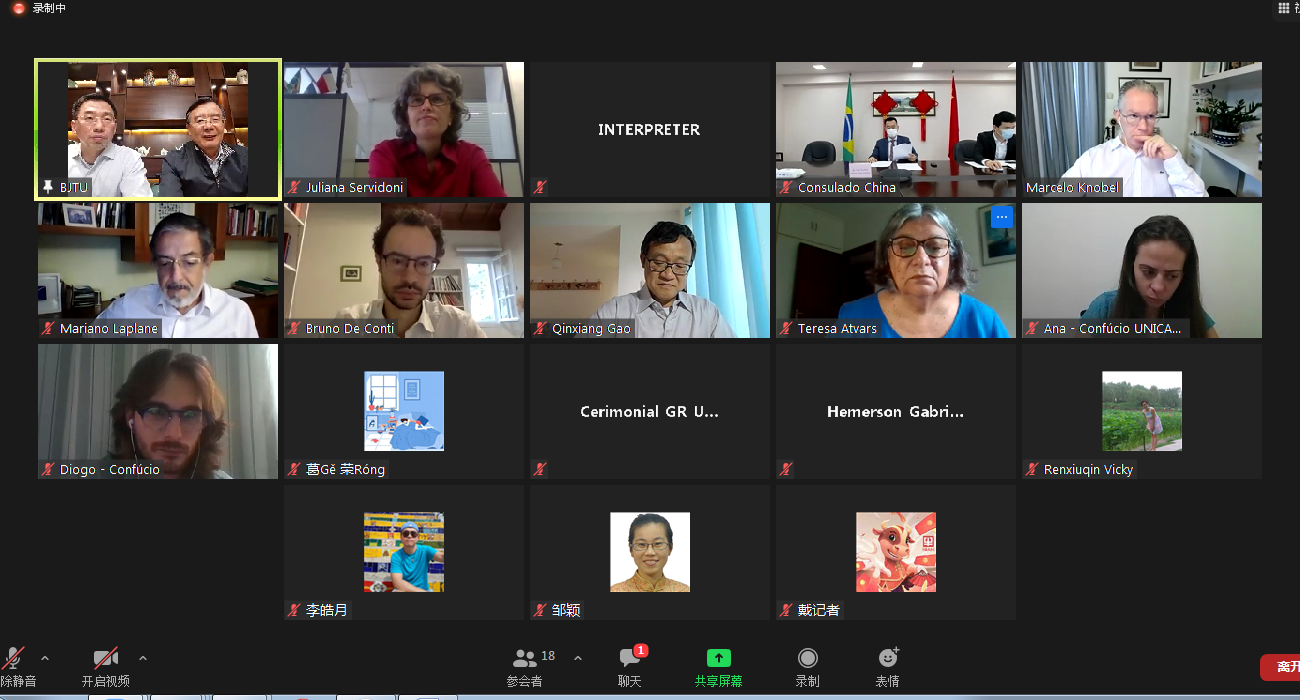 On behalf of BJTU, GUAN Zhongliang expressed his appreciation for the Consulate-General of China in Sao Paolo, the City Hall of Campinas and UNICAMP for their strong support of the Confucius Institute. The Vice President pointed out that the joint Confucius Institute has been developing in full swing since its opening in 2015. Apart from Chinese language courses and various cultural events, the Confucius Institute also carried out a series of international research and academic seminars. BJTU and UNICAMP collaborated in diversified projects such as student and faculty exchange, international workshops and seminars, etc. With the sixth anniversary of the Confucius Institute on the horizon, the launching of the faculty residence building marks an important milestone for the past achievements and set the course of the future. The institutions shall continue boosting academic cooperation so as to contribute to the common development of education, technology, commerce and cultural exchange in both countries.
TIAN Yuzhen, Deputy Consul General of China in Sao Paolo emphasized the importance of the faculty residence building launching as another fruit of China-Brazil cultural dialogue. He is glad to see two prestigious universities of great creativity and academic influence dedicated to the promotion of win-win cooperation and mutual learning in the higher education sector. He believes that their efforts shall play a crucial role in the deepening of cultural exchanges and to development of China-Brazil relations.
Director Juliana Servidoni de Magalhaes believes that the Confucius Institute serves as a bridge of communication between the two people. The Institute at UNICAMP shall help the local residents and students learn about the Chinese language and culture, understand and truly sense the appeal of the ancient country. She hopes the two universities would continue to enhance cooperation, further boosting China-Brazil education and culture exchange.
Rector Marcelo Knobel pointed out that by making full play of its advantages, the Confucius Insititute offers an extraordinary platform for teaching and cultural activities. He hopes that both universities shall continue extending the areas of cooperation and in turn deepen China-Brazil partnership.
Colleagues from the Office of International Affairs also attended the ceremony.