On the afternoon of September 17th, 2020, BJTU held cooperation agreement online signing ceremony with Pak-Austria Fachhochschule: Institute of Applied Sciences and Technology (PAF: IAST) to jointly build the "Center of Excellence in Railways Engineering". Prof. WANG Jiaqiong, President of BJTU, His Excellency Prof. Dr. Atta-ur-Rahman, Chairman Prime Minister's Task Force on Science and Technology, Prof. Dr. Nasser, President of PAF-IAST and Mr. JIA Wei, First Secretary of Science and Technology of Chinese Embassy in Pakistan, gave speeches separately. WANG Jiaqiong signed MOA with PAF: IAST on behalf of the university. The ceremony was chaired by Vice President GUAN Zhongliang.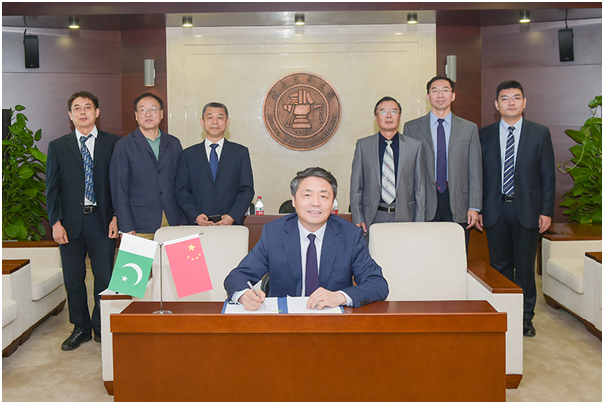 WANG Jiaqiong pointed out in the speech that with the great support of both governments and under the guidance of the"Belt and Road" Initiative, the construction of the China-Pakistan Economic Corridor (CPEC) has been carried out in full swing. we have contributed ourselves in recent years to the China-Pakistan railway and educational cooperation under the guidance of"Belt and Road" Initiative. He hoped that through this singing ceremony and the building of the Center, this Center could be a model project in railway talent cultivation for Pakistan under the "Belt and Road" in the future.
Nasser Ali Khan said PAF-IAST is very honored to cooperate with BJTU and co-build the Center. Pakistani Prime Minister Imran Khan also pays much attention to the railway cooperation conducted between the two universities. Through this ceremony, both sides could carry our cooperation in master and Ph.D students joint cultivation, faculty training and other aspects, which could definitely has great significance to the ML1 railway upgrading project and CPEC construction in Pakistan.
Atta-ur-Rahman said he was very happy to attend this signing ceremony. The Center would be lay solid foundation for the future Sino-Pakistan railway cooperation. He hoped that both sides would implement the MOA as soon as possible and carry out faculty exchanges, mutual visits and training.
JIA Wei said Chinese and Pakistani government pay much attention to the cooperation conducted between the two countries in areas of technology and education. Through signing the MOA today, both parties would exert great influence to the Pakistani railway infrastructure construction and exchanges in technology and education.
Vice President GUAN Zhongliang and principals from the Office of International Affairs, College of International Education, Office of Scientific Research, the Graduate School and School of Electronic and Information Engineering were also present at the signing ceremony.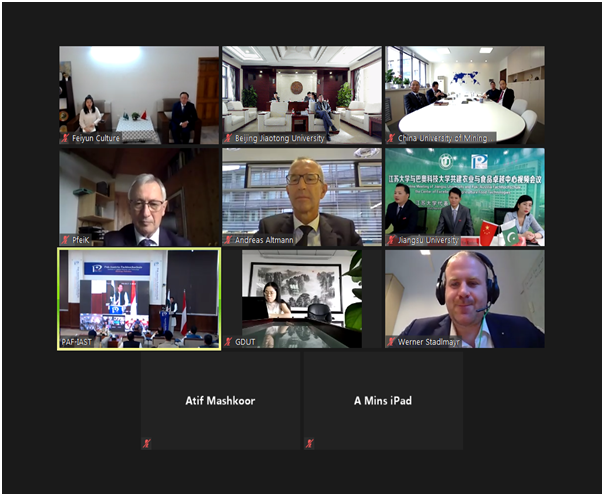 This ceremony was on the occasion of Pakistani Prime Minister Imran Khan's visit to PAF-IAST. Vice President GUAN Zhongliang attended the Prime Minister's online welcome ceremony before the signing ceremony. During the welcome ceremony, Pakistani Prime Minister Imran Khan, Atta-ur-Rahman, Railway Minister Khyber Pakhtunkhw and Governor Khyber Pakhtunkhwa gave speeches. This agreement signing ceremony between BJTU and PAF-IAST was witnessed and highly praised by Pakistani Prime Minister Imran Khan.