In 2004, BJTU launched the "Comprehensive Quality Education Plan for Graduates", as an echo to the need for inter-disciplinary top innovative talents in the new century. The plan offers 600,000 RMB annually for a special fund, focusing on the cultivation of morality, professional ethics, innovation, teamwork, physical and mental fitness of graduates. The core of the plan is to continuously improve the innovation consciousness and ability of postgraduate students, and it will overall strengthen the humanistic qualities and scientific spirits of postgraduates. The main forms of the plan are academic activities and social practice activities, including the "Master Face-to-face" top teacher forum, postgraduates academic forum, summer social practice of postgraduates and All-round Competition on Graduates' Comprehensive Abilities, etc.

The Comprehensive Quality Education Plan for Postgraduates mainly includes the set up of the "Master Face-to-face" top teacher forum and the "Academicians Campus Tour" report forum, so as to provide a great opportunity for the face-to-face communication among postgraduate students and teachers; the establishment of the "Postgraduate Academic Forum", so as to promote the exchanges and interactions between postgraduate students; building up a social practice project management system, so as to carry out scientific service practices rely on social practice bases; and organizing the All-round Competition on Graduates' Comprehensive Abilities, contests on scientific and technological innovations, discussions on hot topics and the "English culture night" contest.

1)The "Dialogue with Great Masters" Forum

This forum invites prominent scholars, elite managers to give reports on the scientific spirit, academic edge and social hot-spot issues for postgraduate students. BJTU has held 951 top master forums in different topics. Besides, in 2008, BJTU launched the series activities of "Academicians Campus Tour" with the theme "live, work and learn" and Chinese and foreign academicians as speakers, which had invited 60 Chinese and foreign academicians. This not only made postgraduate students get better acquainted with the cutting-edge problems of the subjects' development, but witness the elegance of masters, opened their vision, and inspired their creativity.

2)Postgraduate Academic Forum

BJTU gathers postgraduate students from similar subjects into one unit, and organizes the "Postgraduate Academic Forum" via independent reports from postgraduate students, which is host by the schools in turns to train postgraduate students the ability to find and solve problems, to question and discuss. In recent years, BJTU has held 1334 academic forums for postgraduate students in total. Besides, BJTU has also organized the "Huiguang Cup" academic culture festival, which has been held 24 sessions, and built up a broad platform for postgraduate students to show academic talent, do cutting-edge research, discuss hot issues, and strengthen their communication and exchange.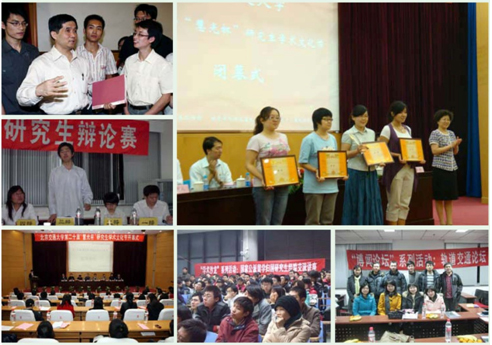 3)Social Practice

The aim of the social practice system is to guide postgraduate students to make full use of their professional competence to serve the society with scientific practices as an active adapt to the need of economy construction. BJTU will annually offer special funds for postgraduate students to do social investigations and scientific research practices in winter and summer holidays. As faithful implement on the plan set up by the Education Committee to send doctoral students to take a temporary post to exercise, BJTU will select and send outstanding doctoral and postdoctoral candidates to the Party and government offices and state-owned enterprises in Beijing for half a year's exercise, which achieves the "win-win" result among employers and the doctoral students, and cultivates the social service consciousness among doctoral candidates.

BJTU is still in graduate school aid tubes, assistant and research assistant for the university practice platform to solve the problem of economic difficulties postgraduate students with practical skills and training to strengthen communication and cooperation abilities together to further enhance the employability. In recent years, there have been a thousand times for employment practices, BJTU issued a special annual allowance of nearly 500 million.


4) Overall Quality Competition

In the form of entertaining contest, BJTU organized "Overall Quality Competition ", including science and technology competitions, creative space, English speaking, the quality of development, hot speculation, and other physical and mental exercise, which has been held over a hundred games. "Graduate English Culture Night" activities hold annually in conjunction with English courses, the project has become a tradition and a postgraduate English speech contest.