On 21st Oct, Vice President GUAN Zhongliang met with the Dean of Faculty of Engineering Technology, from Group T, KU Leuven University, Bert Lauwers.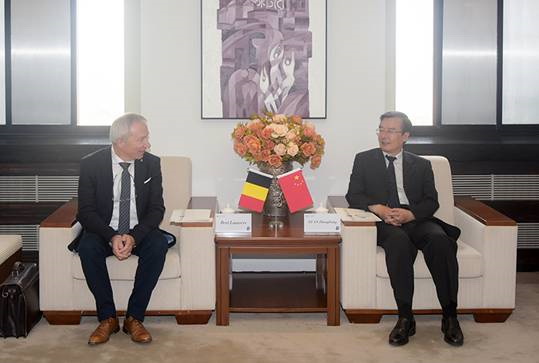 GUAN welcomed Bert Lauwers and briefly introduced the achievements made by the university in terms of international cooperation and internationalised personnel training. He said the university has always attached importance to international development. He hopes based on the double-diploma bachelor programme that is jointly run by the two universities, the joint cultivation of Master and PhD students, the faculty exchange and research collaboration and cooperation area and content should also be explored.
Bert Lauwers appreciated the reception of BJTU. He said the KU Leuven University also emphasises international development and he hopes based on the current successful cooperation between the two universities, research collaboration and faculty exchange should be strengthened to enhance the communication between the two universities to a new level.
Assistant President, XU Yugong, the Chaired Professor of UNESCO, ZHA Jianzhong, and principals of Office of International Affairs and Centre for International Education attended the meeting.